They also found it easier, and quicker, to make piles of assembled straps/clips as sub-assemblies. This avoided too many pick-ups and put-downs.
However - the piles of WIP themselves needed to be boxed up, moved around, etc. which created extra work!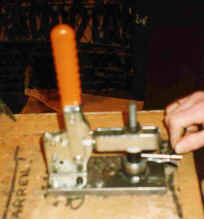 The engineers had a think about this. They came up with a fixed modified clamp which would force the clip open - no need to pick up a tool! The job still had several wasteful steps in it:
...and the operators were not too impressed!